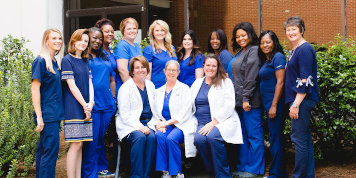 Janet Davis, M.D., P.C. | 1348 Walton Way, Suite 4300 | Augusta, GA 30901 | Tel: (706) 722-4300

Aretha Newson
Nurse Manager
Aretha Ratliff Newson has been in
the Maternal Fetal Medicine
profession since 1990. She retired
from Hossam E. Fadel MD, PC in
June of 2009, returning from
retirement to Dr. Janet E. Davis MD,
PC in August of 2011. She is a
wife, a mother of 2 sons, and
grandmother of 2 grandsons. She is
the owner of …Luv U Bye LLC.
Jacklyn Haynes
Medical Assistant
Jacklyn Haynes is a 2016 Medical
Assistant graduate from Virginia
College. She did her externship at
Janet E. Davis, MD, PC where she
is now employed since January
2017. She is a mother of 2 sons.
Her motto: Live life as if every day
is your last.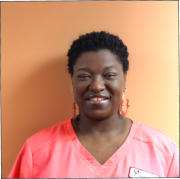 Dr. Janet Davis
Physician
Dr. Davis began practicing
Maternal-Fetal Medicine in 1996 as
Dr. Janet D. Larson. She is board-
certified in both Obstetrics &
Gynecology and Maternal-Fetal
Medicine by the American Board of
Obstetricians and Gynecologists.
Dr. Davis received her medical
degree in 1986 from the Medical
College of Georgia… (read more)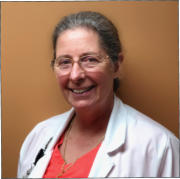 Laura Jones
Sonographer
Laura Jones graduated from the
Medical College of Georgia in 2010
with a Bachelor's of Science in
Diagnostic Medical Sonography.
She is married with 2 children. She
has been employed with Dr. Davis
since January 2016.
Andrea Pinner
Nurse Practitioner
Andrea Pinner graduated from
Georgia State University in 2011
with a Master's Degree in Women's
Health. She then returned in 2014
and completed a Post-Master's
Certificate in Adult Health. She is
Board-certified as a Women's
Health Nurse Practitioner and as an
Adult Health Nurse Practitioner.
She has over 16 years of nursing
experience; 13 of those years have
been spent in Labor and Delivery,
Postpartum, and Neonatal Intensive
Care. She has two years of Nurse
Practitioner experience in Primary
Care and Women's Health. Andrea
has been a resident of Augusta for
nine years with her husband and
three daughters.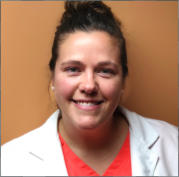 Julie Hardaway
Dr. Davis's Assistant
Julie Hardaway is a native
Augustan, delivered at University
Hospital by Dr. "Curly" Watson. She
graduated Magna Cum Laude from
the Medical College of Georgia in
1986 with a BS in Medical
Technology and is certified by the
American Society of Clinical
Pathologists. She has worked in
hospitals, walk-in clinics, and family
practice in GA, SC, NC, and MD.
Most recently, she worked in the
equine industry performing Coggins
testing. Julie is a follower of Jesus
Christ and sees her work here as a
ministry. She is Dr. Davis's personal
assistant.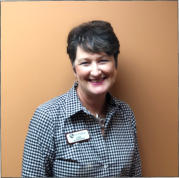 Doctor & Staff
Meet our doctor and staff.